Loic
Ich stehe um halb sieben auf. Morgens jogge ich dreimal pro Woche. Zum Frühstück esse ich zwei Brötchen mit Eiern und ich trinke immer einen Orangensaft. Um 8 Uhr gehe ich zu Fuß zur Uni und ich studiere von 8 bis 18:00 Uhr. Mittags esse ich nicht, aber abends esse ich oft Fleisch und Obst. Um 20:00 Uhr zeichne ich drei Stunden lang, dann dusche und schlafe ich. Am Wochenende mag ich Fußball spielen.
I get up at half past six. In the morning I jog three times a week. For breakfast I eat two rolls with eggs and I always drink an orange juice. At 8 am I walk to the university and I study from 8 am to 6 pm. I don't eat lunch, but in the evening I often eat meat and fruit. At 8pm I draw for three hours, then I shower and sleep. At the weekend I like to play football.
---
Daria
Meistens frühstücke ich in der Universität um halb zehn Uhr. Danach studiere ich in der Universitätsbibliothek oder ich habe Unterricht bis 19 oder 20 Uhr. Um 12 Uhr esse ich mit meinen Freunden in der Mensa. Dann gehen wir in die Universität und trinken Kaffee. Abends treffe ich mich oft mit meinen Freunden, um Tee zu trinken, zu essen oder einen Film anzusehen.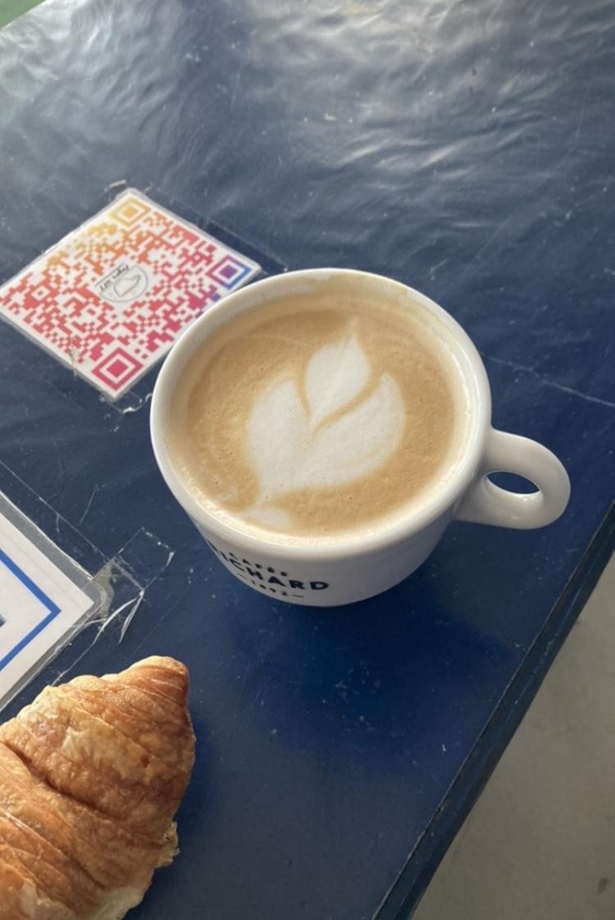 I usually have breakfast at the university at half past nine. Afterwards, I study in the university library or I have classes until 7 or 8 pm. At 12 o'clock I eat with my friends in the canteen. Then we go to the university and have coffee. In the evening, I often meet up with my friends to drink tea, eat or watch a film.
---
Unser Alltag: Gemeinsamkeiten und Unterschiede
Wir stehen natürlich zwischen 6 und 8 Uhr auf, weil wir Unterricht haben. Wir alle frühstücken außer Kyriacos. Manu, Daria und Loïc gehen zu Fuß zur Uni, Jorgos und Leo fahren mit dem Bus, aber Kyriacos fährt mit seinem Auto. Kyriacos und Loïc mögen Schach spielen. Im Gegensatz zu den anderen gehen Kyriacos und Jorgos sehr spät ins Bett.
We get up between 6 and 8 am, of course, because we have classes. We all have breakfast except Kyriacos. Manu, Daria and Loïc walk to uni, Jorgos and Leo go by bus, but Kyriacos drives his car. Kyriacos and Loïc like to play chess. Unlike the others, Kyriacos and Jorgos go to bed very late.