Mathieu
Ich wache oft um 7.00 Uhr oder um 9.00 Uhr auf.  Dann dusche ich. Ich frühstücke ein Ei (das ist sehr besonders im Frankreich). Ich trinke immer Orangensaft.
Eine halbe Stunde später fahre ich manchmal zur Universität mit dem Bus. Ich fahre auch oft mit meinem Elektroroller. Ich spiele immer Tischfußball in der Pause. Am Montag, Dienstag, Mittwoch, und am Donnerstag, gehe ich ins Fitnesstudio um 14.00 Uhr.
Ich komme oft um 20 Uhr und manchmal um 16 Uhr von der Universität nach Hause. Um 20.30 koche ich und um 21 Uhr esse ich. Ich sehe immer Youtube-Videos, während ich Pasta esse.
Zum Schluss, um 22.30 Uhr, gehe ich ins Bett.
Ich esse Pasta täglich. Ich esse 200/300g alle Mahlzeiten.
I eat pasta every day. I eat 200/300g every meal.
Ich fahre oft zur Universität mit meinem Elektroroller. Leider lebe ich im zweiten Stock und mein Elektroroller wiegt 23 kg. Das ist sehr traurig.
I often ride my electric scooter to university. Unfortunately, I live on the second floor and my electric scooter weighs 23kg. This is very sad.
I often wake up at 7:00 or 9:00. Then I take a shower. I have an egg for breakfast (it's very special in France). I always drink orange juice.Half an hour later, I sometimes go to the university by bus. I also often ride my electric scooter. I always play table football at break time. On Monday, Tuesday, Wednesday, and Thursday, I go to the gym at 2 pm.I often get home from university at 8pm and sometimes at 4pm. At 8.30pm I cook and at 9pm I eat. I always watch Youtube videos while I eat pasta.
Finally, at 10.30pm, I go to bed.
---
Louis
Ich stehe normalerweise um 8 Uhr auf und frühstücke. Danach gehe ich zur Universität. Mein Unterricht beginnt um 10 Uhr und endet gegen 18 Uhr. Während meiner Mittagspause esse ich normalerweise etwas und entspanne mich ein wenig.
Nach der Uni gehe ich nach Hause und mache Sport wie Tennis. Danach bereite ich das Abendessen vor und esse. Abends schaue ich Serien.
Die Fotos sind von meinem Tennisverein. Wir haben eine Tennishalle und einen Tennisplatz im Freien.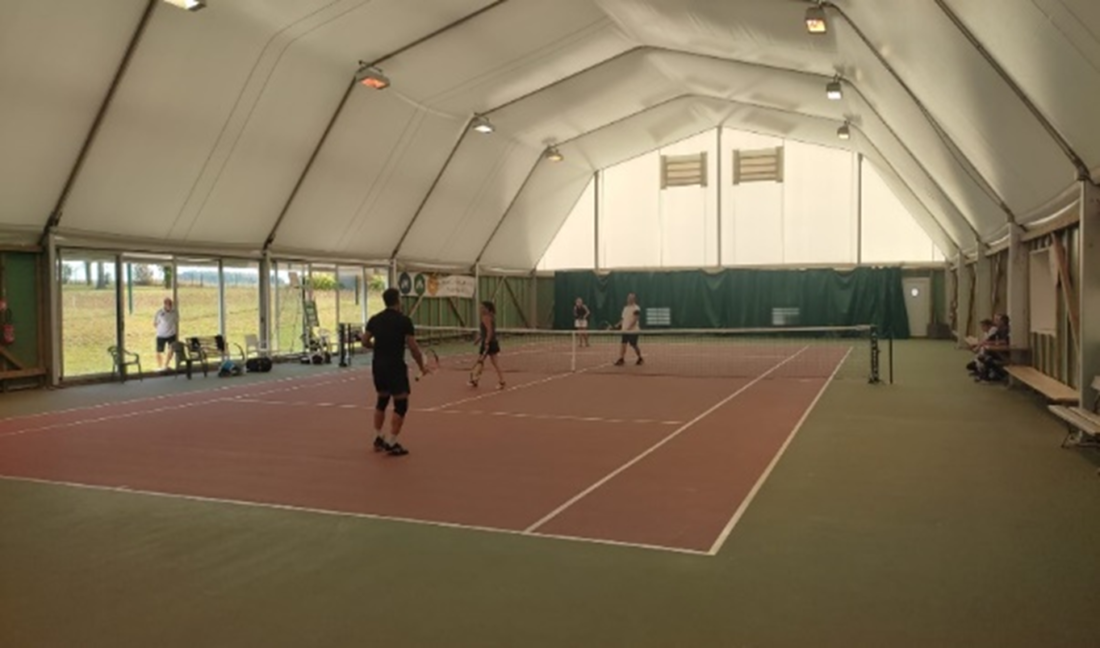 I usually get up at 8am and have breakfast. Then I go to the university. My classes start at 10 am and end around 6 pm. During my lunch break, I usually eat something and relax a bit.
After university, I go home and do sports like tennis. Then I prepare dinner and eat. In the evening I watch series.The photos are from my tennis club. We have an indoor tennis court and an outdoor tennis court.
Unsere Gruppe
Die Essenszeiten in Spanien sind später als in anderen Ländern. Das Mittagessen ist um 12:00 Uhr in Frankreich und in Spanien ist es um 14:00 Uhr. Abendessen ist um 21:00-22:00 Uhr in Spanien und 19:30-20:30 Uhr in Frankreich. Die Stundenpläne in Frankreich sind sehr verschieden von denen anderer Länder. Die Zyprioten haben nichts Besonderes; Koreaner essen Suppe und Ramen zum Frühstück.
Meal times in Spain are later than in other countries. Lunch is at 12:00 in France and in Spain it is at 14:00. Dinner is at 21:00-22:00 in Spain and 19:30-20:30 in France. The timetables in France are very different from those in other countries. Cypriots have nothing special; Koreans eat soup and ramen for breakfast.