Hello, my name is Myriam and here is my daily routine.
Wann ich aufwache, hängt von meinem Stundenplan ab, da ich manchmal morgens oder nachmittags Unterricht habe. Für einen ganzen Tag (Kurs am Morgen) stehe ich meistens um 6:00 Uhr auf. Ich frühstücke nie und gehe um 7:45 Uhr zu Fuß zur Universität, weil ich 15 Minuten von der Uni entfernt wohne. Ich habe Unterricht bis 12 Uhr, dann arbeite ich bis 16 Uhr, bevor ich den Unterricht entweder bis 17:00 Uhr, 18:00 Uhr oder 20:00 Uhr wieder aufnehme. In den Pausen esse ich also meistens in der Uni-Cafeteria zu Mittag. Normalerweise esse ich, sobald ich um 21 Uhr aus dem Fitnessstudio nach Hause komme. Um 23:30 Uhr dusche ich und gehe dann ins Bett.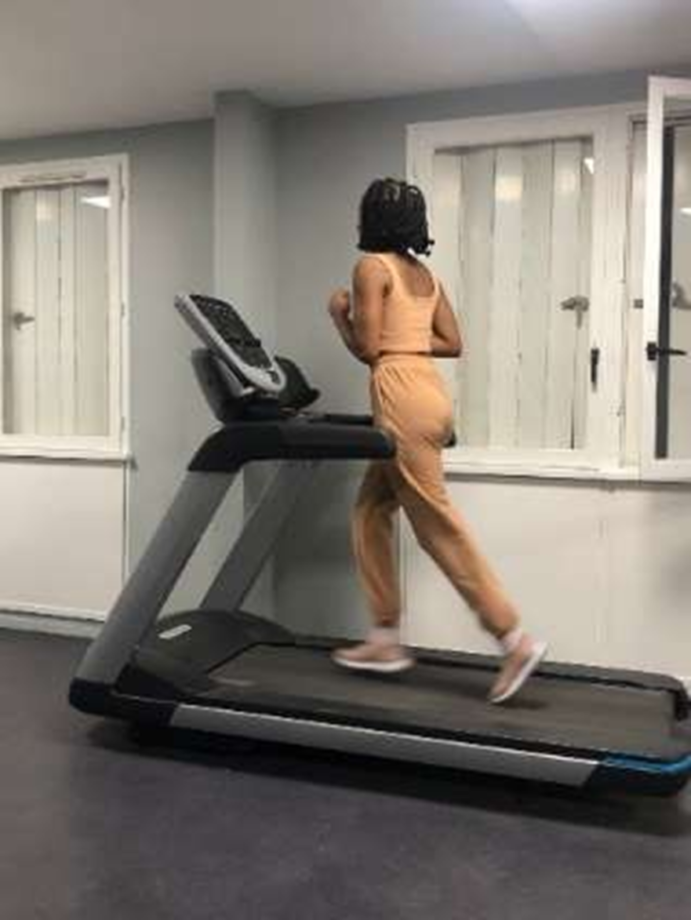 ---
Hello, my name is Oriane and here is my daily routine.
Erstens stehe ich um 6:30 Uhr auf. Ich mache mein Bett, dann dusche ich. Ich frühstücke morgens so gut wie nie. Gegen 7:50 Uhr gehe ich zur Universität. Ich gehe zu Fuß, weil ich auf dem Campus wohne. Mein Kurs endet um 10 Uhr, dann lerne ich in der Bibliothek. Um 11:30 Uhr gehe ich in die Mensa, wo ich bis 13:30 Uhr arbeite, dann esse ich. Um 14 Uhr nehme ich den Unterricht bis 16 Uhr oder sogar 19 Uhr wieder auf. An den Tagen, an denen    ich um 16 Uhr fertig bin, lerne ich eine Stunde und jogge dann noch eine Stunde, bevor ich nach Hause gehe. Abends, wenn ich nach Hause komme, bereite ich ein schnelles Abendessen vor, das ich vor meiner Serie esse. An manchen Abenden rufe ich meine Familie an, um sie zu begrüßen. Spätestens  um 23 Uhr gehe ich ins Bett.
Unsere Gruppe: Gemeinsamkeiten und Unterschiede
Das machen wir alle: Wir stehen alle ziemlich früh auf (gegen 6:30 Uhr), um zur Universität zu gehen. Wir gehen alle sehr spät gegen 23 Uhr oder Mitternacht ins Bett.
Das ist anders: Kulturelle Unterschiede sind uns nicht aufgefallen, eher individuelle Unterschiede. Zum Beispiel fahren Myriam und Oriane mit dem Bus zur Universität, aber Ghina fährt mit dem Auto dorthin und Maria mit dem Bus. Außerdem verbringen Ghina und Maria Zeit im Freien (Ghina geht 30 Minuten spazieren und Maria geht mit ihrem Hund spazieren), während Oriane und Myriam mehr Zeit drinnen verbringen (Oriane geht in die Bibliothek und Myriam treibt Sport).