Latino Bar
Le panneau rouge est le panneau d'un bar latino qui se trouve à Troyes. C'est rare de trouver des bars à Troyes car c'est une
petite ville où il n'y a pas grand chose. C'est une photo que j'ai prise en début d'année avec le club photo de mon école.
Das rote Schild ist das Schild einer Latino Bar in Troyes. Es sind nicht viele Bars in Troyes, weil es eine kleine Stadt ist.
Dies ist ein Foto, das ich Anfang des Jahres mit dem Fotoklub meiner Hochschule gemacht habe.
The red sign is the sign of a Latino bar located in Troyes. It's rare to find bars in Troyes because it's a small town where there isn't much. This is a photo I took at the beginning of the year with my school's photo club.
Daria AVDEEVA
---
Statue von Lili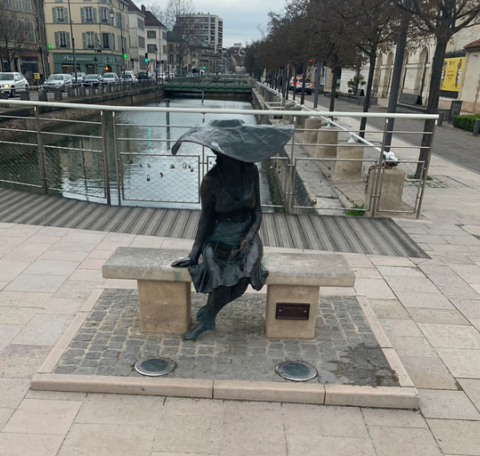 La statue de Lili "La Dame au Chapeau" a été réalisée par un artiste hongrois, Andras Lapis, et est située au centre-ville de Troyes.
Die Statue von Lili "Die Frau mit dem Hut". Ein ungarischer Künstler, Andras Lapis, hat sie geschaffen. Die Statue ist in der Innenstadt von Troyes.
The statue of Lili "The Woman with the hat" has been made by an artist from Hungary, Andras Lapis, and is located in the center of the city of Troyes.
Loïc KENGNE